Susan Schwolow is part of Ginnis & Krathen's skilled team of paralegals and has more than 40 years of experience in the nuts and bolts of running the day-to-day operations of a busy law firm. Susan started working as a paralegal directly after school and one of her favorite parts of working at Ginnis & Krathen P.A. is that she can work directly with clients and help them through their difficult times.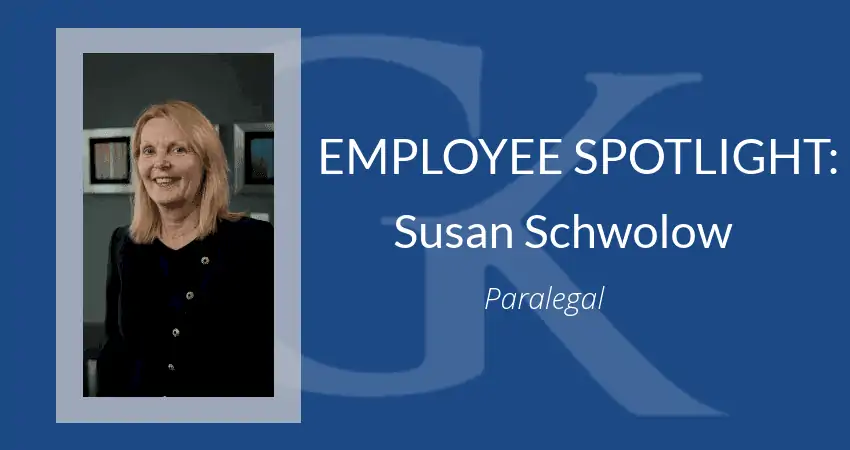 A Close-Knit Team
As an integral part of the Ginnis & Krathen team, Susan loves the boutique approach, which makes the client the focus of everything the team does. Susan feels that working closely with a team of people to help those going through traumatic events combines compassion with litigation efficiency and experience.
"What I like about working here is how we get to concentrate on the client. It's a group and team approach to cases where everyone works in concert with a piece of the case with the client at the center. Then it all comes together when they present their case in court or come to a settlement agreement."
Scope of Work
As a litigation paralegal, Susan is involved in everything from coordinating the paperwork and logistics of deposition hearings, drafting and filing motions to the details of the discovery process. Throughout this process, Susan especially enjoys interacting and working with everyone involved—the litigation team and the deserving people they are dedicated to helping.
Before the case can go to court or to a successful settlement, Susan helps drive the administrative engine that culminates in presenting the client's case. There are no shortcuts, and Susan's focus and many years of experience are part of the foundation of our solid litigation team.
Personal Interests
Born and raised in Pennsylvania, Susan moved to Florida when she was 20. She worked for a firm for 35 years, until her previous boss retired. She then joined the Ginnis & Krathen P.A. team and has been an invaluable resource to our firm.
When she is not working, Susan loves reading mystery novels, spending time with her family, and working in the yard. She also enjoys playing poker, although she maintains a poker face and remains silent about her skill level.
Susan is married and has three grown children. While raising her kids, Susan was actively involved in the scouting troops for her sons and daughter. She is immensely proud of her family and has followed their careers eagerly.
As far as her current outside interests, Susan says with a smile, "I mostly work." During her time here Susan has impressed everyone—clients and colleagues—with her skills, work ethic, and dedication to clients.
A Boutique Law Firm
Having Susan as part of the Ginnis & Krathen P.A. team has allowed us to invest additional time and energy into providing the best service possible to our clients. As a boutique personal injury firm, we believe clients deserve the time and attention to understand their case. Our goal is to provide professional, skilled legal representation to every single one of our clients, and Susan helps us do just that.
If you think you may have a case, please contact our firm for a Free Case Evaluation. One of our attorneys would be glad to speak with you to help you understand the best next step for you.