Holding Negligent Drivers Responsible in Florida
Determining who was to blame for the negligence and proving that you were not at fault in an auto accident can be a challenge. There are a number of actions you need to take in order to defend your personal rights, as well as your capacity to acquire compensation. Meeting with an auto accident injury attorney after your accident is crucial. This personal injury lawyer will aid you in deciphering the complicated insurance and court systems, helping you to receive reimbursement for your losses.
Our car accident attorneys in Fort Lauderdale have first-hand knowledge of many different types of auto accidents and can give you the time and personal attention you need to help you receive compensation for your case. To find out more, get in touch with Ginnis, Krathen, & Zelnick, P.A.
Contact our team online or by phone for a free consultation regarding your injuries at (954) 905-4600. Our team offers client-focused service and direct, honest communication.
On This Page: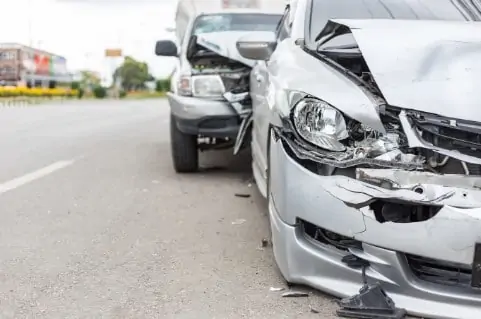 Common Causes of Car Accidents
​Car accidents are a leading cause of injury in the United States, as 6 million occur annually. Unfortunately, a majority of these crashes are caused by human error, meaning if you were injured by a driver, it's likely that you're eligible to file a personal injury claim citing negligence.
Some common causes of car crashes include:
Drunk driving: Driving under the influence of alcohol is illegal in Florida, as alcohol can impair your judgment, hinder your motor skills, and cause you to make risky decisions such as speed or fail to stop at red lights or stop signs.
Distracted driving: These days more and more people have smartphones and access to texting and other apps, meaning drivers are as distracted as ever. Distracted driving can involve texting, talking on the phone, eating or drinking, or doing anything else while you're supposed to be focused on the road and your surroundings.
Speeding: Speeding is one of the main causes of car crashes in the country. Despite the fact that there are designated speed limits on all major roads and highways, drivers will still behave recklessly and drive at fast speeds for fun or to get to their destination quickly. However, speeding reduces your reaction time and can cause devastating injuries due to the increased amount of force applied.
While negligent drivers can usually be held responsible and access their insurance policies, it's possible that the driver is uninsured or will flee the scene of the accident, which is known as a hit and run accident. When you're unable to access the driver's insurance, our attorneys can help you determine if your personal policy has coverage for these situations.
Is It Worth Suing After a Car Accident?
It's true that not every car accident demands a lawsuit in order to get a fair settlement. In situations where there was minimal damage and the insurer is willing to cover all damages, you may not need to hire a lawyer to represent you. However, in situations like those listed below, you may want to consider hiring an auto accident lawyer:
You have been injured
You feel that you are not being given a fair settlement offer by the insurance company
The other driver is refusing to accept responsibility for the crash
If you aren't sure whether or not you should be filing a lawsuit against the at-fault driver, it's always safer to consult with an accident lawyer before accepting any settlement offer.
What Is Your Car Accident Case Worth?
When you are injured in a motor vehicle accident, you will most likely be eligible to receive 2 different types of compensation: compensatory damages and punitive damages.
What Are Compensatory Damages?
Compensatory damages are meant to reimburse a victim for any out-of-pocket expenses stemming from the car accident. For example:
Medical bills
Property damage
Income loss
Emotional distress
Pain and suffering
What Are Punitive Damages?
Punitive damages are typically awarded to a plaintiff in addition to compensatory damages in situations where the defendant has exhibited negligent or careless behavior. As the term suggests, one of the main intents of these judgements is to financially punish the defendant for their behavior and act as a deterrent to future negligence.
Other Factors That May Affect Case Value
Other factors which may have an impact on the amount of damages you are due include whether or not you were wearing seat belt, the types of vehicles involved, your pre-existing medical conditions, past behavior of the local court system, and more. Estimating a case valuation is a complicated and intricate process, which is why it's crucial to consult with an experienced personal injury attorney who can assist you.
Why You Need a Car Accident Attorney
Meeting with an auto accident injury attorney promptly after an incident can aid you in acquiring the reimbursement you're entitled to for injuries and property damage you suffered as a result of someone else's negligent actions. If you or a family member were injured recently in an auto accident, you should reach out to an auto injury lawyer immediately. An auto accident injury attorney has the experience to negotiate with big insurance companies, aid you in determining your individual needs and injuries and, if necessary, bring your case before a court to get you the compensation you deserve.
Damages we've successfully recovered include:
Medical bills, including costs of hospitalization, surgery, medication, and more
Lost wages from missing work
Pain and suffering
Property damage
Our firm has years of hands-on experience in aiding the victims of auto accidents and their loved ones throughout the state of Florida. Call today to speak with our knowledgeable auto injury lawyers. We have a team of accident reconstructionists, forensic photographers, and more at our disposal.
Common Injuries Sustained In Car Accidents
Depending on how serious the car crash is, injuries can range in severity, from whiplash and sprains and fractures to burns, amputations, spinal cord injuries, and traumatic brain injuries.
Soft tissue injuries (such as whiplash, muscle strains or bruises, etc.) are some of the most common types of injuries sustained in car crashes.
What Is Whiplash?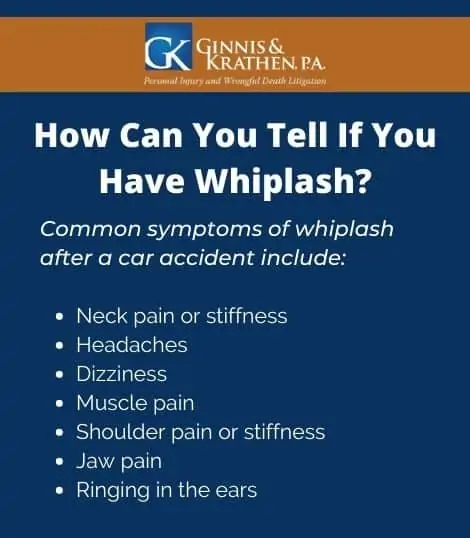 Whiplash is a rather common injury that is typically caused when a person's head and neck are suddenly propelled forward as the result of a collision or sudden acceleration and/or deceleration.
Unfortunately, symptoms of whiplash don't often arise until a few days after a collision or accident, which is why it's not always properly diagnosed. It's important to be aware of the common symptoms of whiplash so that the proper treatment plan can be followed.
How Can You Tell If You Have Whiplash?
All too often, signs of whiplash are misinterpreted as something else. Perhaps the most common symptom of whiplash is that of sudden and persistent neck pain and/or stiffness. This symptom tends to show up a day or more after the accident. Other common symptoms include:
stiffness
muscle pain
headaches
shoulder pain or stiffness
dizziness.
Less commonly, pain in the jaw (temporomandibular joint), arm pain, fatigue, and ringing in the ears may also be symptoms of whiplash. Prolonged whiplash that isn't diagnosed or treated properly can also lead to what's known as a "whiplash related disorder." These can include:
depression
anxiety
post-traumatic stress disorder (PTSD)
sleep disturbance
Diagnosing and Treating Whiplash
Any time a person is in a whiplash-inducing situation, such as a car accident, it's important to seek medical attention—even if the person is not obviously injured. To check for signs of whiplash before the pain even arises, a doctor will take a series of X-rays of the head and neck area. If it is believed that the patient has whiplash, most doctors will treat it proactively by placing a collar around the patient's neck for needed support. This can help the body to heal the whiplash sooner and may save the patient from a great deal of discomfort in the process.
Want to see results? Our car accident lawyers in Fort Lauderdale can get started on your claim when you call us at (954) 905-4600. We serve clients throughout Florida.