Bicycle Accidents in Florida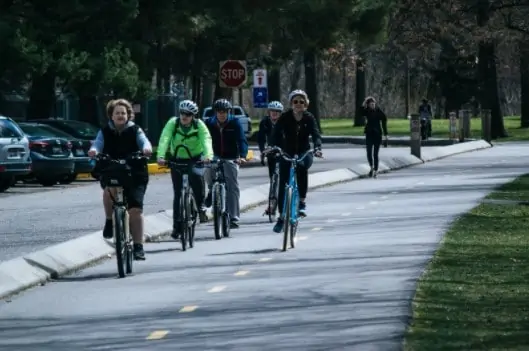 If you've ever been on a bicycle, you know that cruising on one can be a pleasurable experience with the wind in your hair and the sun on your face. If you ride each day or only on occasion for either recreation or competition, you deserve to expect a safe road where cyclists are protected for doing what they love, regardless of the situation. Unfortunately, hundreds of cyclists are injured and even killed every year in bicycle accidents and blamed for the accident even when they were not to blame.
A bicycle accident can occur due to poorly maintained roadways, negligent drivers of vehicles, other bicyclists, or faulty bike equipment. Unfortunately, even though there is typically no fault on the part of the cyclist, law enforcement and general public perception tends to blame the cyclist. That is why it is crucial to reach out to a bicycle accident attorney immediately following your or your family member's accident. An experienced bike accident lawyer in Fort Lauderdale will guide you step-by-step through the legal process and assist you in getting the compensation you deserve. Call Ginnis, Krathen, & Zelnick, P.A., a personal injury law firm in Fort Lauderdale, to speak with a bicycle injury lawyer immediately.
Our team of bike injury attorneys is reputable and knowledgeable and can give you the time and attention you deserve to get the reimbursement you need. Call (954) 905-4600 to schedule your free consultation or fill out our online form.
On This Page:
Common Causes of Bicycle Accidents
Because Florida is a sunny state known for its tourist attractions, many residents and tourists alike take to their bikes to ride around neighborhoods and along the beach. Unfortunately, this accounts for the increased number of bicycle-related crashes in the state. Florida is no stranger to bicycle accidents. In 2020 alone, the Florida Department of Highway Safety and Motor Vehicles reported nearly 6,000 bike accidents that killed 163 bicyclists and injured more than 5,500.
Though other bicyclists and pedestrians can contribute to these accidents, research shows that a majority of bicycle accidents are caused by or involve motor vehicles. These accidents are often caused by driver negligence and are preventable.
Common causes of bicycle accidents include:
Distracted driving: When drivers aren't focused on the road, they're less likely to notice a bicyclist in their blind spot or crossing the street in front of them, and they also may fail to brake behind a slower-riding bicyclist. Anything that prevents a driver from maintaining their concentration on the road is considered distracted driving and is negligent. Examples including texting or talking on the phone, eating or drinking, applying makeup, and even simply adjusting the radio.
Dooring: This practice refers to drivers or passengers who open their car doors into oncoming cyclists while parked on the side of the road. All drivers must be cautious when exiting their vehicles to be mindful of bicyclists traveling in their designated bike lanes.
Speeding: Drivers have less time to respond to a hazard when they're speeding. Bicycle accidents can occur when cars are driving too fast behind them on the road, when they make fast turns or quickly pull into driveways or parking lots, and more.
What Injuries are Most Common in Bicycle Accidents?
Bicyclists can suffer from long-term or permanent injuries like:
Amputations
Road rash
Facial scarring/disfigurement
Broken or crushed bones
Lacerations
Internal organ damage
These injuries can be incredibly expensive and require lifelong medical care in addition to emergency medical expenses.
Why Are Bicyclists More Vulnerable to Serious Injuries?
In crashes involving bicyclists and motor vehicles, the bicyclist is most likely to suffer more severe injuries. This is because while drivers and passengers are protected by the outer exterior of their vehicles, as well as safety features like seat belts and airbags, bicyclists have little else besides helmets to cushion the blow. Bicyclists may also suffer more injuries because they suffer from two different points of impact:
When the car hits them or their bike
When they hit the ground after being flung from their bike
Who Can Be Held Liable for Bicycle Accidents?
In order to determine who should be held responsible for your accident, our injury lawyers will need to determine what caused the accident in the first place. Any of the following parties may be found liable, depending on the circumstances:
A motorist – Especially if you were struck by a car whilst obeying all the rules of the road
Vehicle passengers – The phenomenon known as "dooring" occurs when a passenger (or driver) opens a car door in front of a bicyclist, causing them to run into the door and suffer injuries; whether done intentionally or not, a passenger may still face liability for this
Owners of parked vehicles – If a motorist parks their car in a way that obstructs the bike lane and forces you to go into traffic in order to get around them, the owner of the parked car may be liable for any injuries suffered
Those responsible for maintaining the road – If your injuries were caused by poor road conditions, either for you or another motorist, the entity responsible for maintaining the road may be held responsible
What Is the Average Bicycle Accident Settlement?
While it's impossible to calculate your exact settlement amount without knowing the details of your accident and the extent of your injuries, you can usually expect to obtain compensation for any of the following, depending on the details of your case:
Medical treatment costs
Damaged property (including your bike)
Lost income due to missed work
Pain and suffering
Permanent or temporary disability
Occasionally punitive damages
Actual settlement amounts vary widely and may be anywhere from several thousand dollars to several hundred thousand.
Call Our Trusted Bicycle Accident Attorneys in Fort Lauderdale
If you or a loved one has suffered from a bike accident injury, it is crucial that you reach out to a bike accident attorney immediately. Unfortunately, law enforcement typically hold an unfair bias against cyclists, and even when an accident occurred due to absolutely no fault of your own, it is important to have a bicycle accident attorney on your side, protecting your rights, and ensuring that you get the reimbursement you deserve for your injuries, lost wages, and pain and suffering.
Ginnis, Krathen, & Zelnick, P.A. is experienced in handling bike accident cases. We have successfully handled bike injury claims and obtained substantial awards for our clients. Reach out to one of our knowledgeable Fort Lauderdale bicycle injury lawyers immediately. We want to protect your rights while assisting you in getting the reimbursement you deserve.
For personalized service in Fort Lauderdale, call our bicycle attorneys at (954) 905-4600. We offer services to clients throughout Florida in English and Spanish. Book a free consultation today.