Premises Liability Claims in Florida
We each have the duty to watch where we're going, but property owners also have a responsibility to make sure their property is safe, inside and outside of the building. While this is not always the case, if there was a defective or dangerous condition on the property that they knew or should have known about and you were injured as a result of their negligence of this duty, you have the right to be reimbursed. If you or a loved one was injured in a slip and fall accident in Fort Lauderdale or in one of the surrounding areas like Miami or West Palm Beach, it is important to reach out to a Fort Lauderdale slip and fall lawyer immediately. At Ginnis & Krathen P.A., our slip and fall attorneys in Fort Lauderdale have the experience and knowledge necessary to successfully represent you in your slip and fall lawsuit and to assist you in getting the reimbursement you deserve.
We can act quickly by identifying witnesses, preserving evidence, compiling proof, and ensuring that your injuries are well documented. The property owner may argue that you were at fault, acting carelessly, in order to reduce damages the court awards you or the amount you receive in a slip and fall settlement. Therefore, it is critical that you contact a lawyer today to ensure your rights are protected.
Call (954) 905-4600 or contact Ginnis & Krathen P.A. online for a free consultation in English or Spanish. We've recovered millions and give each of our clients the attention they deserve.
How Slip & Falls Relate to Premises Liability
A slip and fall injury can happen at any time, in any place. According to the Centers for Disease Control and Prevention (CDC), more than one million Americans are injured from slip and fall accidents every year. Sometimes a slip and fall accident is unavoidable. Other times, a slip and fall accident is a result of a property owner's negligence, which is why slip and falls fall under the category of premises liability. Property owners owe their visitors and residents a standard of care and are obligated to fix any dangerous or defective conditions on their properties or in their buildings.
If you or a loved one suffered a slip and fall injury, it's to your own benefit that you call an attorney to investigate. No matter how minor or severe your injuries, if a property owner breached their duty of care to you and you were injured, you deserve to be compensated.
The most common injuries that result from slip and fall accidents include:
Broken bones
Cuts and bruises
Spinal cord injuries and nerve damage
Sprained wrists and ankles
Though many victims of slip and fall accidents recover quickly from sprains and fractures, some injuries can be especially severe and result in catastrophic injuries or death. The CDC reported that around 17,000 Americans die annually from their slip and fall-related injuries.
How Slip & Falls Occur
Slip and fall accidents can happen in parking lots, apartment complexes, and at schools, shopping malls, playgrounds, and more. The list of places slip and falls can occur is endless because there are a variety of factors that can contribute to an accident.
Accidents can often be caused by the following:
Snow and ice: Property owners have a responsibility to shovel their sidewalks and parking lots after snow or ice to ensure accidents and injuries don't occur.
Stray cords and electrical wires: People often trip over unsecured cords and wires when they walk over them.
Wet or slippery surfaces: Floors and other surfaces can be hazardous to people when they're wet or slippery. These can include everything from waxed floors to spills that haven't been cleaned up.
Uneven surfaces: Individuals can easily trip over potholes, defective sidewalks, loose or torn carpeting, broken stairs, and more.
Poor lighting: When a building lacks sufficient lighting, it's easy for visitors or guests to trip over things they can't see.
How Much Should I Settle for a Slip and Fall Claim?
A professional and experienced attorney can help you recover the following damages after a devastating slip and fall:
Emergency medical costs, such as hospital bills and ambulance bills
Future costs of care, including medications, equipment, and physical therapy
Lost wages
Pain and suffering
At Ginnis, Krathen, & Zelnick, P.A., we pride ourselves on our years of experience successfully representing victims and their families in slip and fall accident cases.
How Long Do I Have to Sue for a Slip and Fall?
The state of Florida allows victims of slip and fall accidents to pursue legal action against the property owner for up to 4 years following the date of their accident. Although this may sound like a long time to file a lawsuit, it's important that you file a claim as soon after the incident as possible, this helps ensure that evidence can be preserved and that any witnesses memories remain fresh. Don't wait! Contact Ginnis & Krathen P.A. today to get started.
Can You Sue for Falling in a Parking Lot?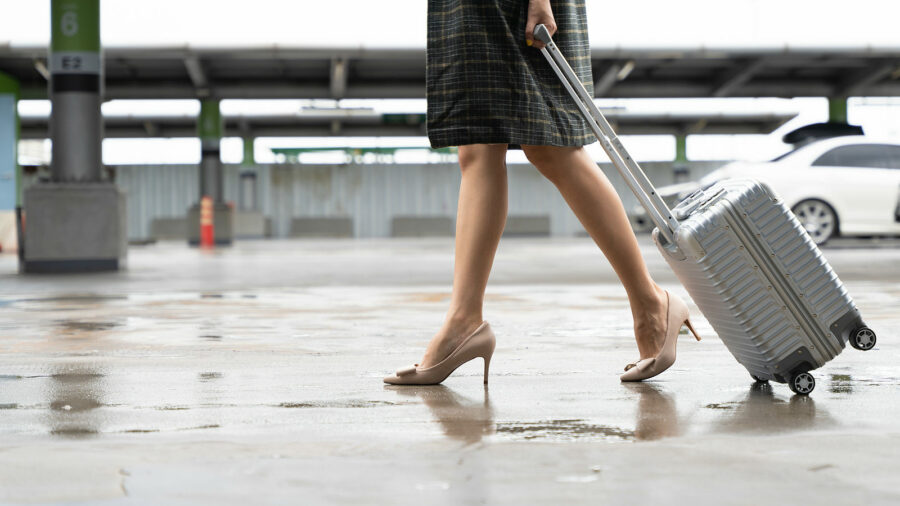 While slip and fall accidents in grocery stores may be fairly straightforward when it comes to liability, who is responsible for accidents that occur in parking lots? What if the lot is shared by multiple businesses?
If you tripped over a rough patch of parking lot or a broken curb, or if you slip and fell because of ice or snow that was not removed, you may have grounds to file a personal injury claim against the party responsible for maintaining the parking lot. In order to determine who is ultimately responsible for parking lot maintenance, you will need to reach out to the leasing company or the business that owns the parking lot. Our attorneys are experts at handling slip and fall claims and will gladly represent you in situations like this.
Why Hire Ginnis, Krathen, & Zelnick, P.A.
A slip and fall accident presents unique problems for an injured plaintiff. In a slip and fall lawsuit, it is difficult to prove that the property owner knew or should have known about the defective or dangerous condition. In addition, property owners often argue that a slip and fall injury was as a result of the injured person acting carelessly. This argument, if won, can reduce the amount you receive in a slip and fall settlement by the percentage you are found at fault.
The laws surrounding slip and fall injuries are complex and each case has its own unique facts and circumstances. By getting in touch with an experienced slip and fall attorney immediately, you may be able to ensure a higher success of locating key witnesses, preserving evidence, and identifying the defective or dangerous condition that caused the accident.
Call (954) 905-4600 to reach our team of compassionate, detail-oriented slip and fall accident lawyers in Fort Lauderdale. At our firm, every case matters. Book a free consultation today.
Recommended Reading: