Truck Accident Lawsuits in Florida
If you or a family member suffered an injury in conjunction with a truck, you could be entitled to reimbursement for your suffering. Fighting against a large trucking company or their insurance company can be complicated and overwhelming. Our team of personal injury lawyers is on hand to help, providing supportive and knowledgeable assistance in your fight to claim compensation.
Contact the law office of Ginnis, Krathen, & Zelnick, P.A. immediately to speak with one of our seasoned semi-truck accident lawyers. With our experience and resources, we can aid you in finding your way through the complexity a motor vehicle accident claim can present, helping you to get the compensation you deserve.
Call (954) 905-4600 or contact us online for personalized service and accessibility. Our team is here to serve you and your needs after a painful accident.
On This Page:
Steps to Take After You've Been Injured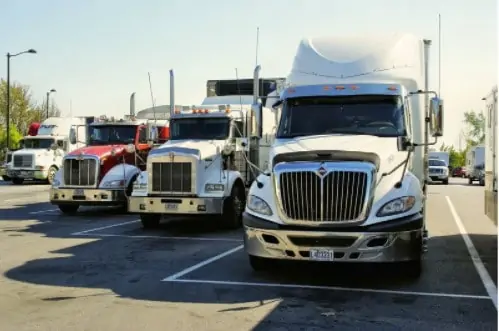 ​Every year across the U.S., trucking accidents cause numerous injuries and even death, and the number is only increasing. According to the Centers for Disease Control and Prevention (CDC), between 2015 and 2018 the number of truck crash deaths increased from 665 to 885, resulting in a 25% increase, and Florida had the second-highest number of truck occupant deaths in the United States.
If you or a loved one has been injured in a tractor-trailer or 18-wheeler truck accident in Florida or elsewhere, there are several steps you should take to protect your legal rights and to assist you in getting the compensation you deserve.
After a crash, be sure to do the following if possible:
Call the authorities and seek medical attention: After making sure you're safe, report the crash so the authorities can fill an accident report and you can seek treatment for your injuries. Whether you're immediately injured or not, it's still important to have a doctor assess you because they may be able to detect injuries you didn't know you had.
Document the accident: The more evidence you collect, the better. Make sure to take photos of the vehicle damage, accident scene, and your injuries, if possible, and exchange information with others involved. You should always check for witnesses who can give statements so you can prove liability in your case.
Hire an attorney: A detail-oriented lawyer, like those at our firm, can help you collect evidence, interview witnesses, correspond with insurance companies, and file the paperwork to recover damages on your behalf. If you're suffering from injuries, you already have a lot to think about – an attorney can relieve you of this burden.
How Is Fault in a Truck Accident Determined?
In trucking accident fault can be assigned to one, or several different parties, depending on the cause of the accident:
The driver: If the driver was found to be the negligent party (i.e. they fell asleep at the wheel, were drinking and driving, etc.) they may be found responsible for the accident
The trucking company: If the trucking company failed to properly maintain the truck, or required the driver to drive longer hours than federal regulations allow, they may be held liable
The cargo loader or manufacturer: If the cargo loader or manufacturer failed to properly balance or secure the cargo, leading to an accident, they may be held responsible for the crash
The truck owner: Sometimes companies rent trucks from truck owners, which means that the owner would be responsible for ensuring the truck is safe to drive; if improper maintenance led to an accident, the owner may be held responsible
What is the Average Semi Truck Accident Settlement?
One thing you should keep in mind is that there is no one-size-fits-all settlement for truck accident lawsuits. The size of your settlement will depend entirely on how serious your injuries are, how long you are kept away from work, and whether or not you will be facing a permanent change in quality of life as a result of your injuries. The typical truck accident settlement will seek to compensate you for the following damages:
Medical expenses
Lost income
Property damage
Ongoing therapy (both physical and emotional)
Medications
Home adaptation for disabled access
Lost earning capacity
Pain and suffering
Loss of enjoyment of life
What Are Common Truck Accident Injuries?
Because trucking accidents are typically more catastrophic than the average passenger vehicle accident, this means that the injuries tend to be more severe and life-altering. Some common injuries sustained in trucking accidents include:
Broken bones
Limb amputations
Neck or back injuries
Benefits of Hiring an Attorney After a Trucking Accident
If you or a loved one is the victim of a truck accident in Fort Lauderdale or in one of the surrounding areas like Miami or West Palm Beach, determining who was responsible for the accident and what caused it is a much more complicated process than with a standard auto accident. There are many different parties included, from the owner of the truck to the driver of the truck, and there are many different possible causes for the accident, from driver error to equipment failure. Having a truck accident injury lawyer who is familiar with the industry and experienced in gathering the necessary information to support your claim is critical.
An 18-wheeler accident can cause minimal damage in some cases, but often the damages, both to the individual and property, are catastrophic due to the sheer size and weight of the vehicle involved. A truck accident attorney can aid you in navigating the complicated federal laws that regulate the trucking industry, help you determine what caused the accident, and can determine who is responsible in order to compensate for your losses.
A truck wreck lawyer can also assist you when dealing with:
The many different insurance companies involved
The complicated relationships between the driver, the owner of the truck, the equipment leasing company, the manufacturers, and the owner of the truck's cargo
Gathering the proof necessary to hold the negligent party responsible for your injuries
If you or a family member has been in a tractor-trailer or semi-trailer truck accident, reach out to Ginnis, Krathen, & Zelnick, P.A. today to speak with a highly skilled and experienced truck accident injury lawyer. We work with clients throughout the state of Florida from Miami to Fort Lauderdale and West Palm Beach to Jupiter.
Our Fort Lauderdale truck accident attorneys believe every case matters. To get the undivided attention you deserve, (954) 905-4600 for a free consultation at (954) 905-4600. Hablamos español.