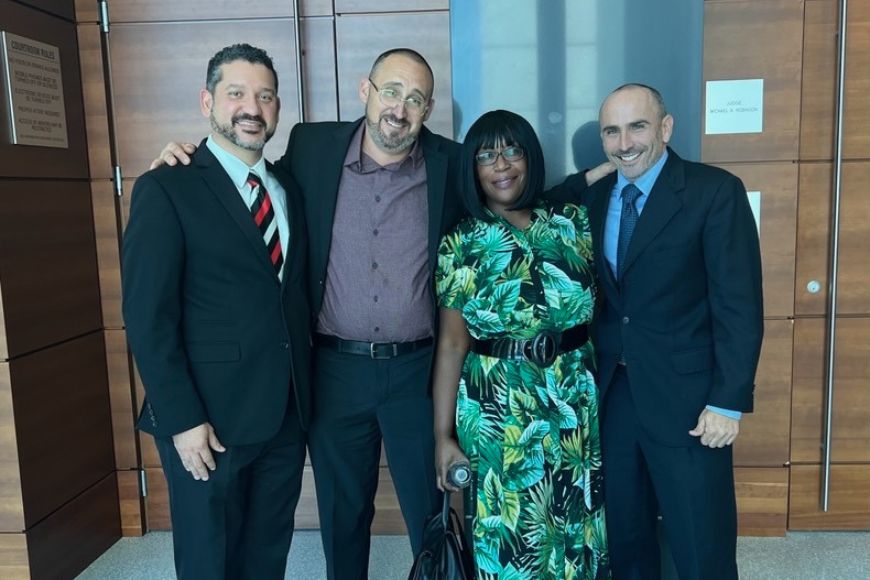 FORT LAUDERDALE, Fla. – Personal injury lawyers H Ross Zelnick and Miguel A. Amador of Ginnis & Krathen, P.A. obtained one of Florida's largest slip and fall verdicts in two decades, securing over $7.8 million for their client in a lawsuit against Burger King.
A Broward County jury found Seven Restaurants/Burger King 100% liable for causing the 2019 slip and fall of Richard Tulecki in a Hollywood restaurant bathroom. Tulecki suffered lower back injuries resulting in surgery complicated by a postoperative perforated colon.
After over 2.5 hours of jury deliberation, the jury awarded Tulecki $7,809,765 for the life-changing injuries he sustained. This verdict is one of the largest slip and fall verdicts in Florida's history, based on records.
"Delivering this verdict to our client means everything," said Zelnick, one of the personal injury attorneys leading the case. "Our client suffered tremendous hardship due to the Defendant's negligence. While no verdict could undo those damages, it will provide him and his family with the resources to move forward."
"I'm so glad I found the team at Ginnis and Krathen. They're the greatest. I found them after working with another law firm that did not care about me and would not get back to me. But the team at Ginnis and Krathen would always call to check up on me, even on weekends. They have been beside me, they have helped me in every way possible above and beyond what a lawyer is supposed to do. Having a good law firm to take care of you when problems arise is a big help and a relief," said Richard Tulecki.
A crucial factor in the historic verdict was the Ginnis & Krathen team's ability to establish a relationship between the slip and fall and GI issues experienced by Tulecki. Zelnick and Amador detailed Tulecki's medical records and utilized expert witnesses to provide the jury evidence of the causal connection.
"Our decades of trial experience, limitless financial and intellectual resources, along with our dedicated team of lawyers, paralegals and medical experts, allow our firm to go toe to toe with billion dollar insurance companies," said Zelnick.
"The insurance company denied any wrongdoing and offered only $200,000 to settle this case. We chose not to negotiate with this unreasonable insurance carrier. Together with our client we had our day in court," said Amador, a top Fort Lauderdale slip and fall lawyer.
The victory comes only months after Gov. Ron DeSantis signed HB 837 into law, a Florida tort reform bill that drastically diminishes the rights of Floridians, according to Zelnick. Of particular importance, the new law shortened the statute of limitations for individuals seeking to file a negligence claim from four years to two.
"This bill benefits corporate giants and insurance companies to the detriment of the citizens of Florida," said Zelnick. "A verdict of this magnitude sends a strong message that corporate greed will not be tolerated in Broward County. Our client left the courthouse with confidence in the civil justice system and feels that his voice was heard."
Statute 837 is now in effect and contains significant changes related to negligence claims. Individuals should talk with a Fort Lauderdale attorney at Ginnis & Krathen promptly to file a claim within the new two-year statute of limitations.