Personalized Service for Injured Clients Throughout Florida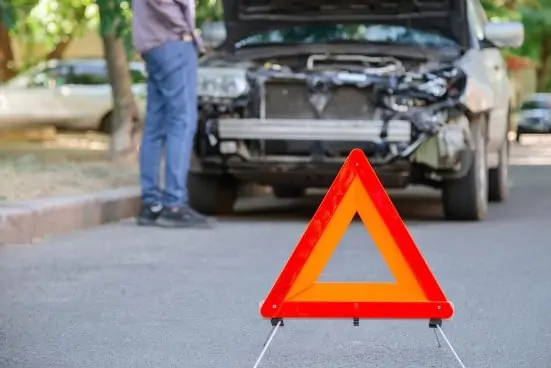 Known as a hit and run, fleeing the scene of an accident is a criminal offense in the state of Florida. This type of motor vehicle accident is also civilly actionable, which means so long as you can identify the party responsible for the crime, you may pursue them for reimbursement due to injuries, lost wages, property damage, or pain and suffering.
Not having insurance, being intoxicated, driving a stolen car, or already having a warrant for their arrest are just a few reasons why negligent drivers might flee the scene of an accident. Unfortunately for victims of these crimes, determining who committed the offense can be challenging; thanks to the expanding numbers of traffic cameras, cellphones, investigative techniques, and other advances in technology, hit and run drivers can be identified and brought to justice far more often. If you've been a victim of this accident, our Fort Lauderdale hit and run accident attorneys could get you the compensation you're legally entitled to.
At Ginnis, Krathen, & Zelnick, P.A., our Fort Lauderdale hit & run accident lawyers have both the experience and resources to aid you in identifying the individual who is responsible for your suffering and can assist in maximizing the chances of obtaining the compensation you deserve.
Call us for legal services in English or Spanish at (954) 905-4600, or contact our team online. We meet with our clients face-to-face and are able to give you our undivided attention during a difficult time.
What Should You Do After a Hit & Run Accident?
There are many reasons why a driver may feel compelled to flee the scene after they've caused an accident. Often, it's because they were engaging in reckless or illegal behavior while driving such as drinking and driving or driving without insurance. Drivers are expected to stop their car after an accident, help injured victims get the medical attention they need, and exchange information with others involved.
After you've been injured and the other driver drives away, there are a number of immediate steps you can take to help the authorities locate the driver, or to simply strengthen your claim so you have an opportunity to cover the costs of your medical care and lost wages.
After a hit and run accident, you should:
Pull over and call 911 for medical attention and authorities
Take any photos of your injuries and damage at the accident scene
Collect information from witnesses
Try to jot down any detail you remember about the fleeing driver and vehicle, including:

Car make, model, and color
Car license plate number
Driver's appearance
Any unique details about the car, such as bumper stickers or dents
Anything you can remember about the other driver can help the authorities in tracking them down. Once you've received treatment for your injuries, it's important to hire a personal injury attorney to get started on investigating your claim. Our team has forensic experts and reconstructionists at our disposal that we can use to bring value to your claim.
What Happens in a Hit and Run Investigation?
In most situations the police will only spend time investigating a hit and run if someone was injured or killed in the accident, or if the damage to personal property exceeded a certain amount. If the police are investigating your accident, they will likely take the following steps:
Gather evidence at the scene of the crime
Interview witnesses to gather additional information
Canvass the area for security cameras that may have gotten footage of the accident
Set up a tip line or a means for citizens to report suspects
Follow up on potential leads
While there is no gaurantee that the police will be able to find the culprit, that doesn't mean you are without options.
Who Will Pay My Damages?
Unfortunately, it's difficult to trace the guilty party after they've fled. However, you're still able to recover compensation for your injuries even if you don't have access to the driver's insurance by filing a claim with your own insurance company.
In the state of Florida, all drivers are required to carry at least $10,000 in personal injury protection (PIP) coverage. The more PIP you have, the more your company will cover your costs after a hit and run accident. PIP benefits have limits that include 80% of medical bills, 60% of lost wages, $5,000 worth of death benefits, and mileage reimbursement for the trips you make to and from the doctor's office. Additionally, drivers can use their uninsured/underinsured motorist coverage (UM/UIM) to pay for damages.
Our attorneys can help you access this coverage so you don't have to worry about paying for the following damages yourself:
Emergency medical bills
Future costs of medical care
Lost wages
Pain and suffering
Property damage
How Common Are Hit and Run Accidents?
Florida Highway Safety and Motor Vehicles (FLHSMV) recently published an article stating that hit-and-run crash fatalities have risen by over 18% in Florida between 2019 and 2020. FLHSMV keeps an online record of active hit-and-run cases throughout Florida. These records include the date, time and location where the incident occurred, as well as a brief description of the accident and the vehicle believed to be involved.
You Need Representation After an Accident
If you or a loved one were injured as the result of a hit and run car accident in Fort Lauderdale or the surrounding areas, it's crucial that you reach out to a knowledgeable attorney today. It can be immensely troubling to not only identify the person accused of fleeing the scene of the accident, but it can also be difficult to gather substantial evidence to prove their guilt. A hit & run accident attorney in Fort Lauderdale with experience in this area can help you to find your way through these problematic situations. It is essential to do so as quickly as possible before any evidence is either lost or destroyed.
Call our award-winning hit and run accident lawyers in Fort Lauderdale for a free, same-day consultation at (954) 905-4600.